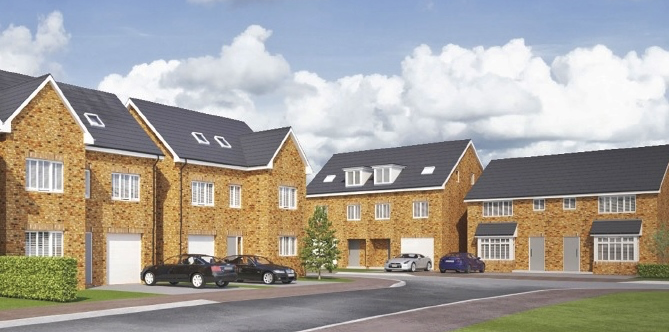 ---
13 March 2019
---
Bonus for investors after weather hassle in Hessle
---
CapitalStackers investors were invited to benefit from the refinancing of a popular ongoing project, which was already at an advanced stage of construction, with practical completion scheduled for May 2019.
The original auction for the Boothferry Road development in Hessle, west of Hull city centre, was sold out in 24 hours, with investors bidding returns between 11.07% and 14.45% for Loan-to-Values of 63.3% and 69.8%, respectively.
Hampshire Trust Bank – the senior debt provider – had increased their facility to cover cost increases caused by:
bad

weather

–

necessitating

deeper foundations a

nd a

temporary road, and

cost inflation for materials and

labour

.
Of course, cost increases are never ideal, but we regarded these as fair. However, the developer wished to access additional working capital and restructure the funding to allow them to expedite the second phase and take advantage of the current, very positive sales momentum.
In considering their approval, CapitalStackers' risk assessors were impressed by the experience of the team (Craig Swales and Steve Vessey Baitson of Applemont), and the high level of reservations on the houses (mainly from first-time buyers with no chain).
Applemont is an experienced player in housebuilding and general construction around East Yorkshire and Hull. Their knowledge of the Hull owner occupier market is sound – and clear evidence of this is shown by the keen early sales interest in the Hessle scheme.
Eleven reservations have been taken on the fifteen new houses in the first phase and, of these, only one purchaser has a house to sell. Among the initial purchasers are seven first time buyers and six have paid a reservation fee. Six viewings over a recent weekend suggest ongoing demand for the scheme.
The agreed sales prices already exceed the Savills valuation by £27,500 and currently stand at £2,057,500 in aggregate.
Craig Swales of Applemont said of the new deal, "It's fantastic for a small developer to have this facility and flexibility. The ability to refinance on the move gives us much-needed agility in a fast-changing world and CapitalStackers make it so easy to adapt our scheme and raise the right money when needed".
---
---
---
Don't invest unless you're prepared to lose all your money. This is a high risk investment. You may not be able to access your money easily and are unlikely to be protected if something goes wrong. Take 2 minutes to learn more.
---